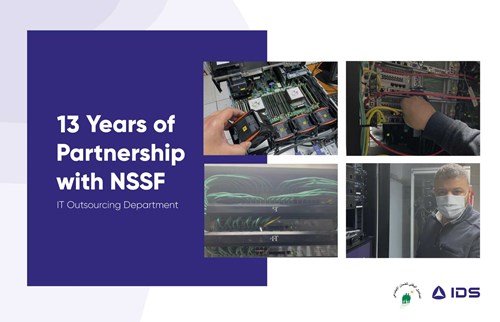 31 Dec 2020
13 Years of Partnership with NSSF
IT Outsourcing Service
2007-2020
For 13 years, IDS dedicated an IT Outsourcing Team for The National Social Security Fund (NSSF) of Lebanon to provide NSSF with numerous services in the different fields of Software Applications, Operations, Infrastructure, and Training.
NSSF has almost 1,200 employees, 40 centers, affiliates 50,000 enterprises, covers more than 620,000 subscribers with about 840,000 beneficiaries.
IDS team was responsible for developing and supporting the NSSF applications in terms of development, deployment, debugging, modifications, and employees' technical support.
Our team managed to integrate new applications into one web application built on N-Tier architecture with one centralized database. The new applications were built on state-of-the-art software engineering standards and extensive documentation was provided.
Below are the main benefits of the new system:
Reliable infrastructure and visualization

Clean database and data entry measures

Minimum human errors

Centralized control of the branches

Better services for the beneficiaries

Centralized Database (SQL server 2012) with international standards

Easiness of development of new applications and linking them to the central database

Existence of new security system with user's authentication

Setting of a Disaster Recovery site,

Optimization of application response time

Enhancement of employee's productivity in all branches

Integration with third parties:
                              - Link with Governmental institutions (MOF, MOL, MOJ, MOH)
                              - Link with Pharmacies, Labs, diagnostic centers
Readiness for Electronic services
                               - E- payment
                               - E-forms to send the application to NSSF for Companies registration, employee registration,                                   contributions and other services
Also, IDS provided:
Implementation of High Availability and Disaster Recovery plan

Training for about 1000 NSSF employees on all applications

An online solution for medical approvals

An IT vision for the following 5 years through a Power Point presentation

A proposed study for online subscription liquidation
You may contact us:
+9611859501
info@ids.com.lb