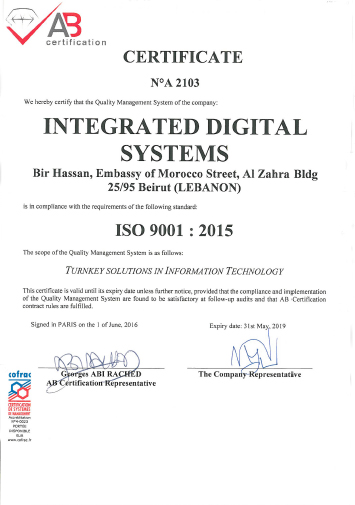 23 Aug 2016
Once again, IDS proves to be a leader in its domain by being one of the first companies in the region to be certified for ISO 9001:2015 Quality Management System.
Being certified for ISO 9001 since 2004, complying with ISO 9001:2015 new requirements was easy and transparent. ISO certification is based on quality management principles including strong customer focus, leadership, the process approach, continous improvement, relationship management, people involvement, and the factual approach in decision making. Abiding by these principles and having all IDS processes fully compliant with ISO 9001:2015 requirements makes the company a pioneer in quality management.
The ISO audit was performed in May 2016 in a transparent and professional environment. The certificate was granted in June, and delivered in August.
Being ISO certified means our customers can have confidence that IDS is committed to quality and outstanding customer service.